After chilling in Thailand over Christmas and the New Year, as well as doing a bit of exploring around Kanchanaburi, my visa was coming to an end and I was ready for a new adventure. This time I was heading to Malaysia!
I hadn't prepared for the trip at all, I was just going to make it up as I went along and hopefully get a volunteering project under my belt as my visa allows me to stay for up to 3 months.
My flight took me into Kuala Lumpur, which I had been to briefly before when I changed flights from London to Bali, though I was determined to get sight of the city itself and to hopefully experience an Asian festival or two whilst here too.
When I arrived at my hostel and handed in my laundry, I went to the nearest train station to find my way to the Petronas Towers, the landmark that appears on the majority of all Malaysian tourist souvenirs. I got advice from the hostel that the best place to see them was from the sky bar at the Traders hotel and as it was a wednesday night, it was also Ladies night so it was free drinks too! I was hardly dressed for a night out in a posh bar but I didn't let that stop me!
The sight certainly didn't disappoint!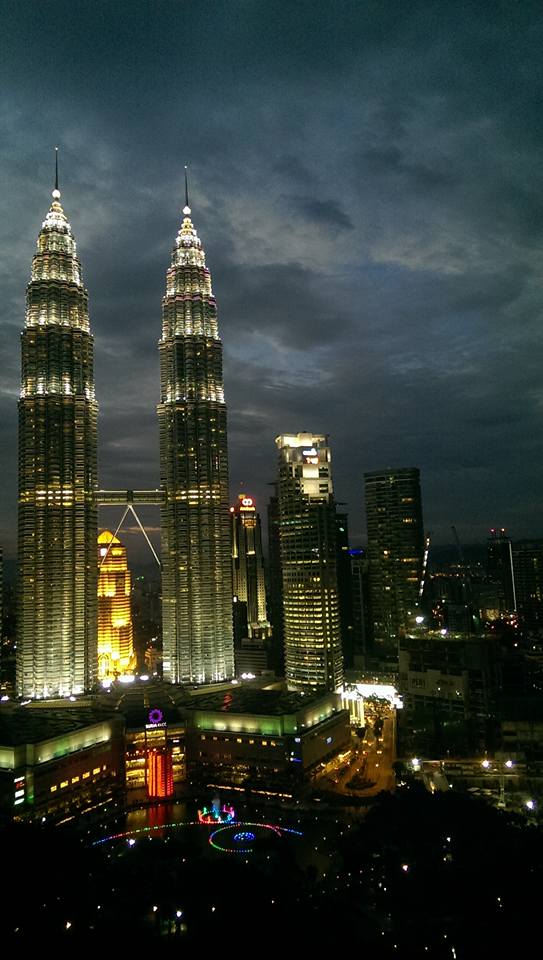 The next day, I headed into the colonial district to learn a bit about the history of the city. The buildings I saw were all built after the great flood of which I learned about when I went to see the musical 'Mud'. It was only after I bought my ticket that I learned that it was an interactive experience. I'm a naturally shy person so I must say, I was a bit worried! And when I saw that there were only 5 people watching the show, I knew that I'd definitely be picked out to take part. It turned out that EVERYONE took part and 'helped' the cast put out the 'fire' and was a lot of fun.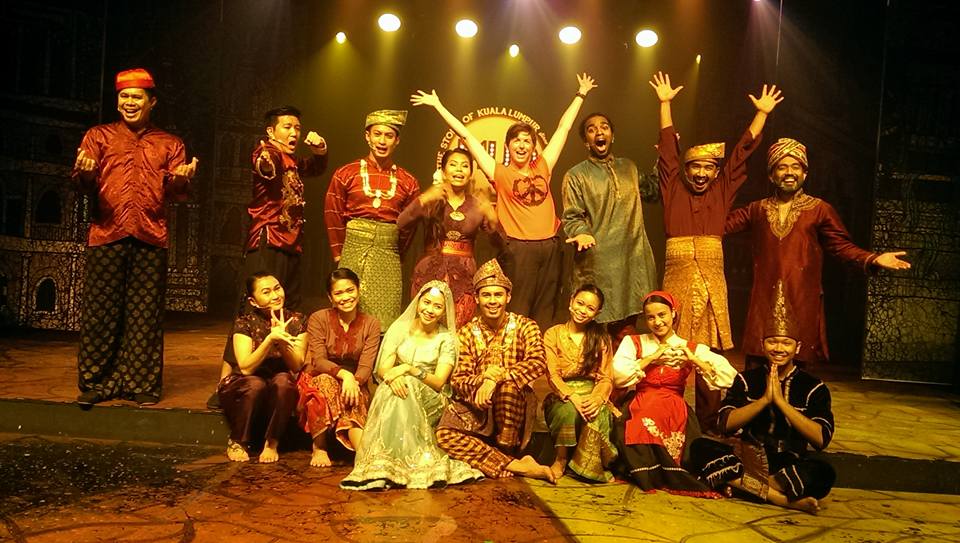 The next day was he start of the Thaipusam festival where people fast and walk up to the Buta caves where they would show their devotion by sticking hooks and spears through their bodies! I got there a little too early though so by the time people started arriving at the temple, I was ready to go. I did get to see people with hooks in their backs though. Surprisingly, there was no blood anywhere, which was nice.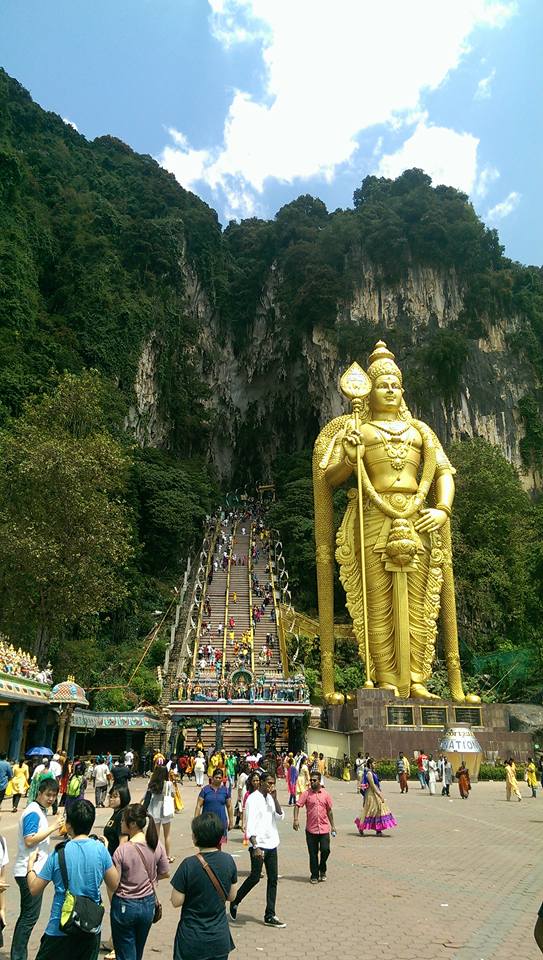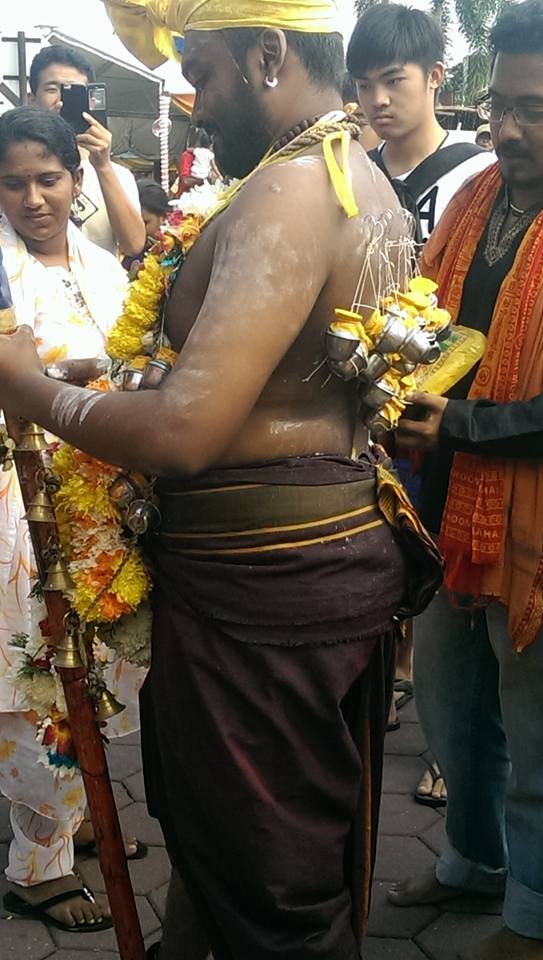 The next day, I was to head over to the Island of Penang and to stay in a little hostel in Georgetown. It is another colonial settlement and has a fort but these days, people seem to visit because of all the street art.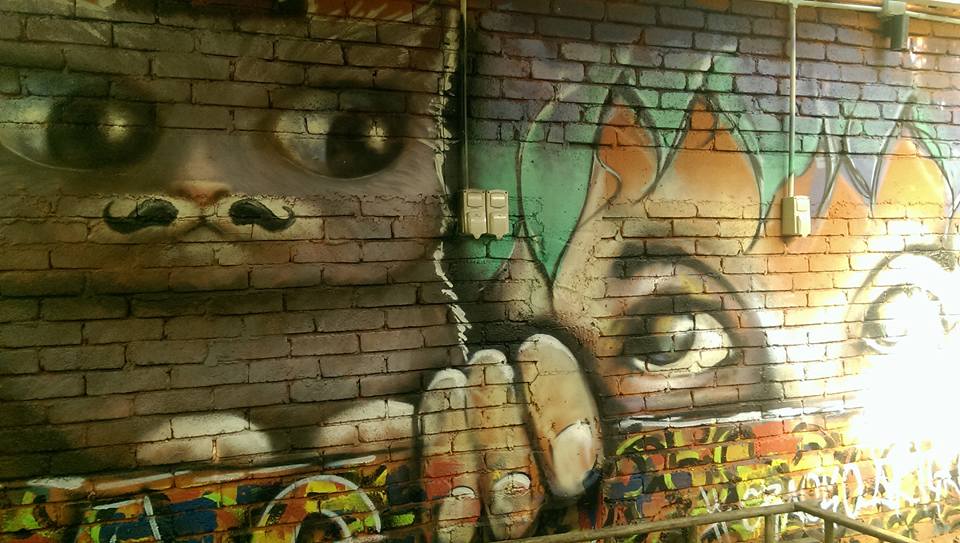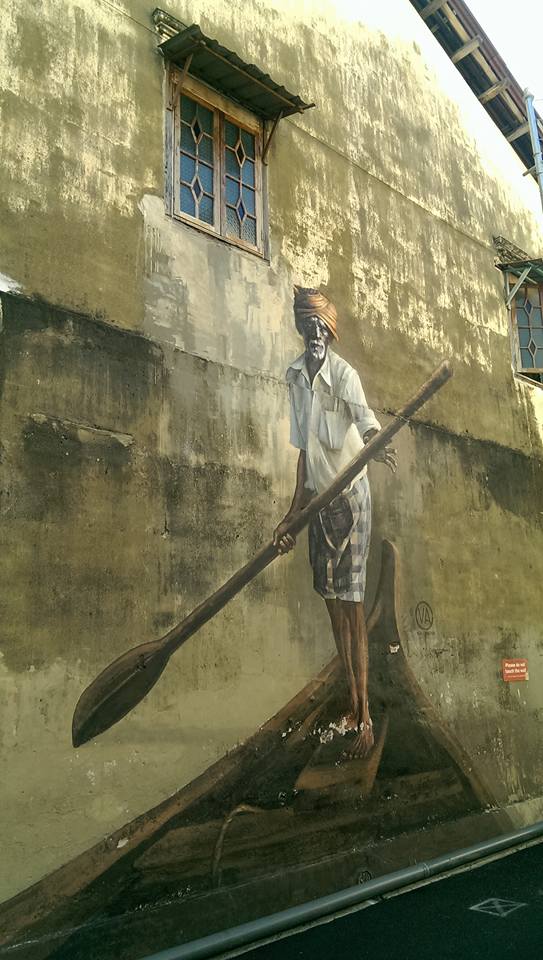 Today I was starting to feel a little homesick because it was one of my close friend's 30th birthday and they were having a big party without me. I helped them celebrate from afar instead and raised a glass over dinner.
I'd heard wonderful things about a neighbouring island called Langkawi and so decided to pack my things and grab the first boat in the morning over there. The crossings in the afternoon can be quite rough so the mornings were definitely the best (and busiest!) time to go.  It wasn't too bad actually!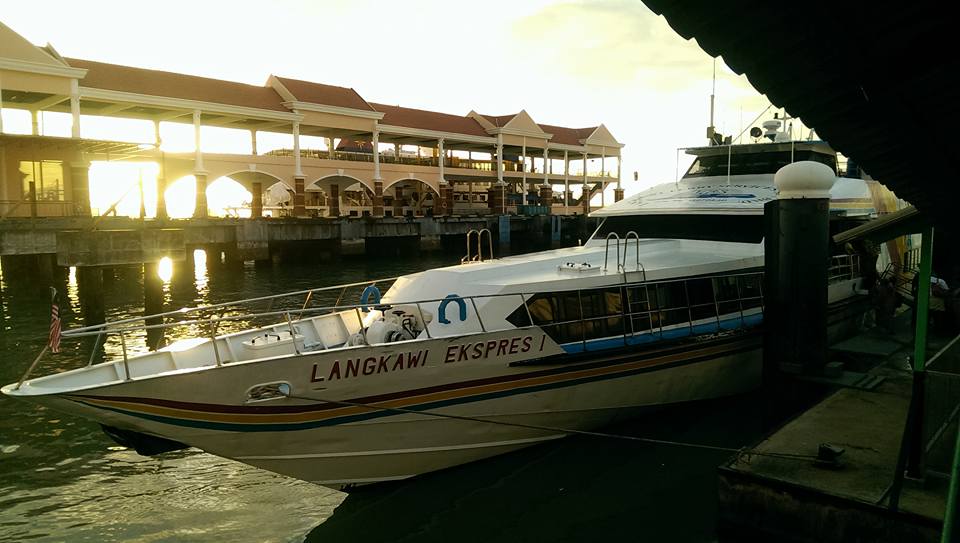 I arrived a couple of hours later and asked a taxi driver to take me to the best place where I could find somewhere to stay because I still hadn't sorted it out! After a little bit of a search around, saw a couple of grim places, I found a place online called 'Tubotel' overlooking the sea. A bizarre hotel where you stay in tubes! Quite expensive for what it is but definitely a different experience to a boring hotel room or busy dormitory.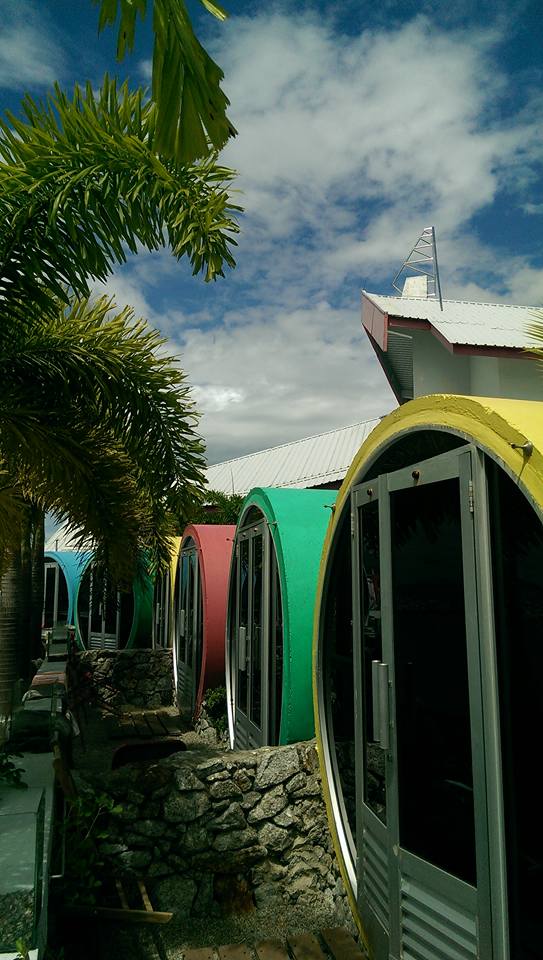 The next day, I hired a scooter to explore the island. I was a little nervous as I hadn't ridden one since being in Pai, northern Thailand.   However, I found that the roads were a lot safer and there wasn't much traffic so it was an absolute pleasure to breeze around the island and I made a mental note of places that I would visit properly over the coming days.
Whilst chatting on Whatsapp over breakfast, I'd somehow managed to convince my friend Sofie to come and join me because she was having a miserable time with the wet weather in Vietnam. I think me sending her pictures of the beach and the cocktails might have had something to do with it but I'm not sure. She was arriving the next day! Quite excited actually because I'd been feeling a bit down and missing my friends. I told her that I wouldn't go and do anything fun before she arrived so I made myself sunbathe for a few hours after returning from my trip around the island and researching places that we could stay. Sharing a tube at the Tubotel wasn't an option as they are too claustrophobic for two people.
Sofie finally arrived and seemed very relieved to have made it to warmer climates and to be able to finally put down her bag. Her journey involved delayed and missed flights, extra expense and general hassle. I promised to buy some Prosecco to make her feel better.
The next day, we grabbed a taxi into the town of Cenang so we could hire a couple of scooters and to have lunch. The afternoon was spent relaxing by the pool, watching the sunset and quaffing the Prosecco that we found at the local small supermarket. There are definitely worse ways to spend a day!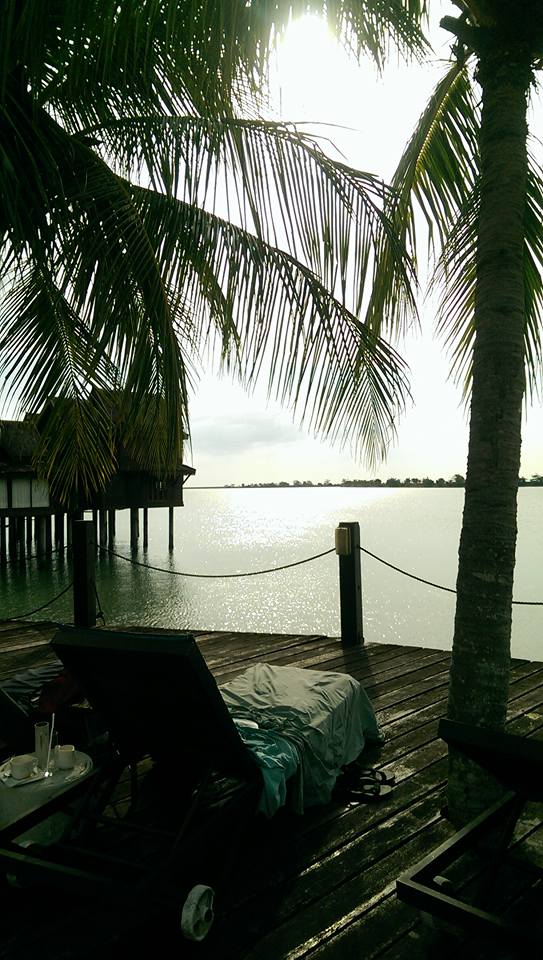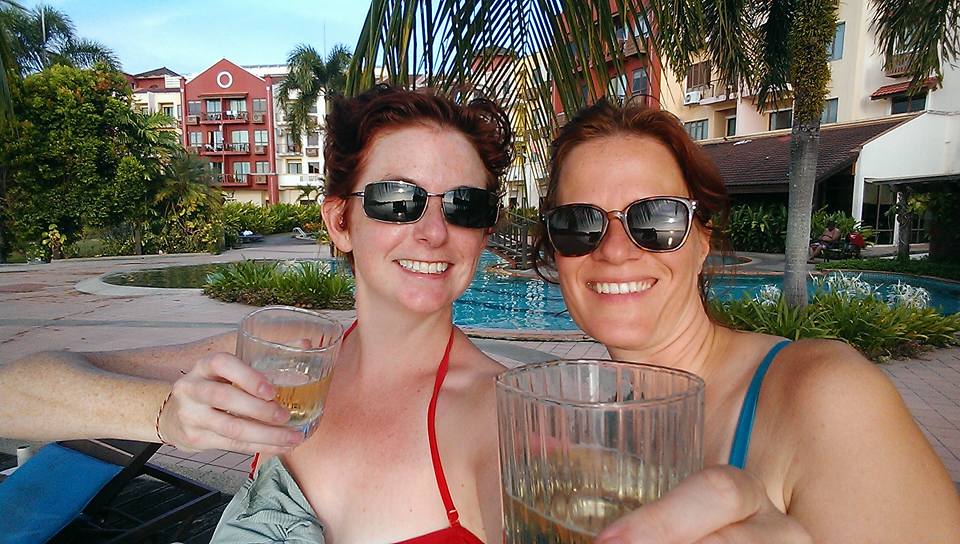 In the north of Langkawi, there is a Sky Bridge that we went to visit by taking the steepest cable car ride I've ever seen. It was at this point, I realised just how bad Sofie's fear of heights was. Bless her. She was shaking and gripping onto a poor innocent passenger that happened to sit next to her. She did really well and even made it out on the bridge without passing out. I loved it though. Maybe I'm just a masochist?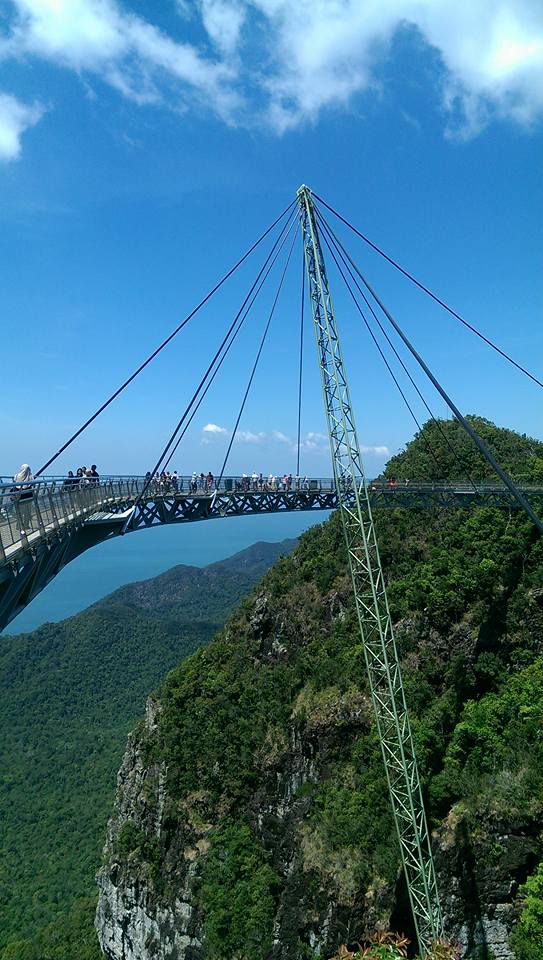 That evening was once again, spent by the pool with a beer watching the sun set. After a shower, we headed into Cenang to go to a lovely restaurant called the 'Yellow Bar' and had the best meal I'd had in a while.  An old favourite from my childhood, chicken and chips! A nice change from Asian food that I'd been eating for the past few months.
We were in need of a new place to stay as our Airbnb booking was coming to an end, so spent the next looking for places we would be comfortable in staying.  After scootering the entire island, we were honest with ourselves and just decided to extend our stay as it was just so lovely having the pool. Sorted!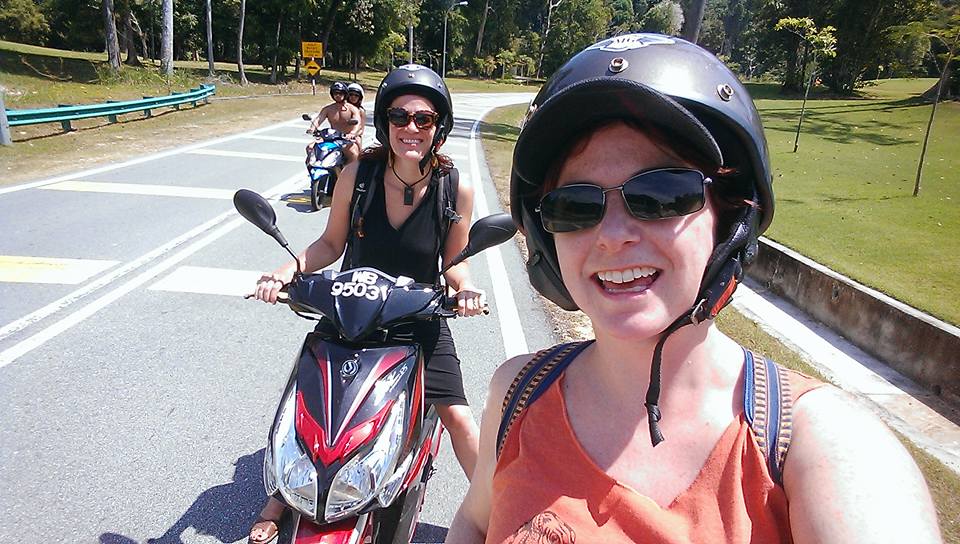 The next day, we went in search of a quiet little beach where we could chill for the day.  We tried our best to talk our way into the exclusive beaches but it wasn't to be.  So we found a lovely spot on a quiet public beach on the north side of the island and we even bumped into a couple that we met at the Sky Bridge! The sand was pure white and there was even someone giving neck and back massages – I felt amazing afterwards and I then bought one of the beers that they were also selling
That evening, yes you guessed it, spent by the pool and watching the sunset. We chatted until daft o'clock drinking lots of wine. Great laugh.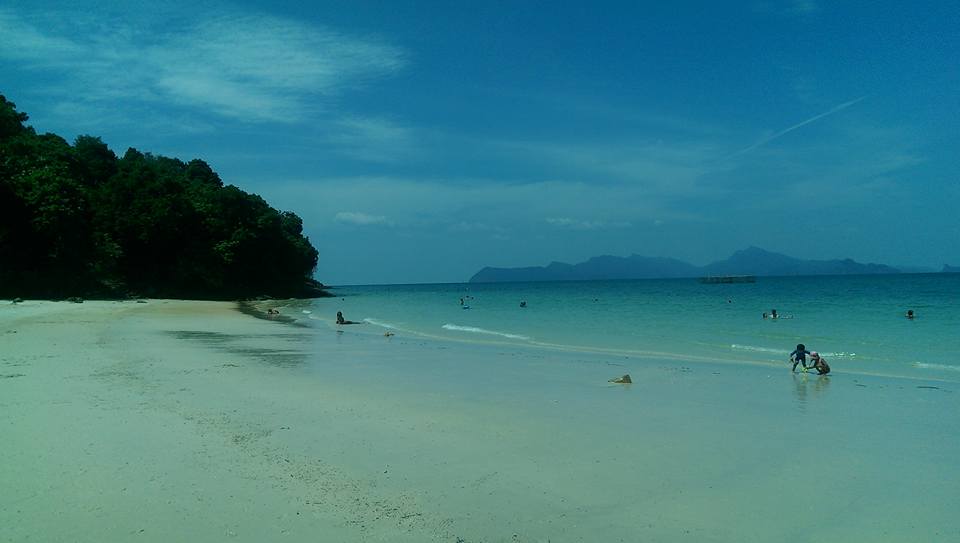 After breakfast and sorting out our next adventures and flights online, we scootered over to the Kilim Geopark that we had kept driving past and promising to visit. We went on a boat trip where we saw a bat cave, Eagles dive bombing for fish, a deserted island, a fish farm where they had hunter fish squirting at their prey (a piece of bread).
On the way back, we stopped by a waterfall where there was a family of monkeys that took an interest in us.  How cute!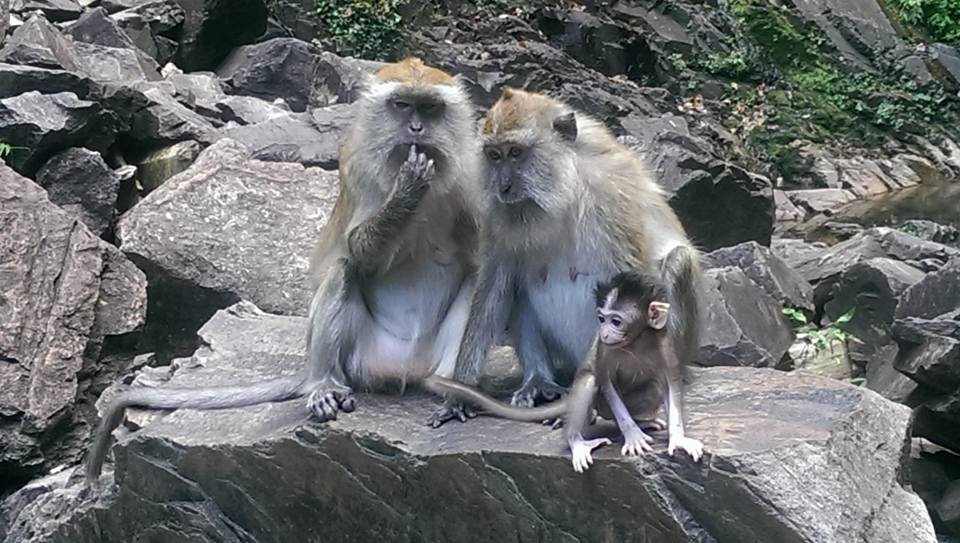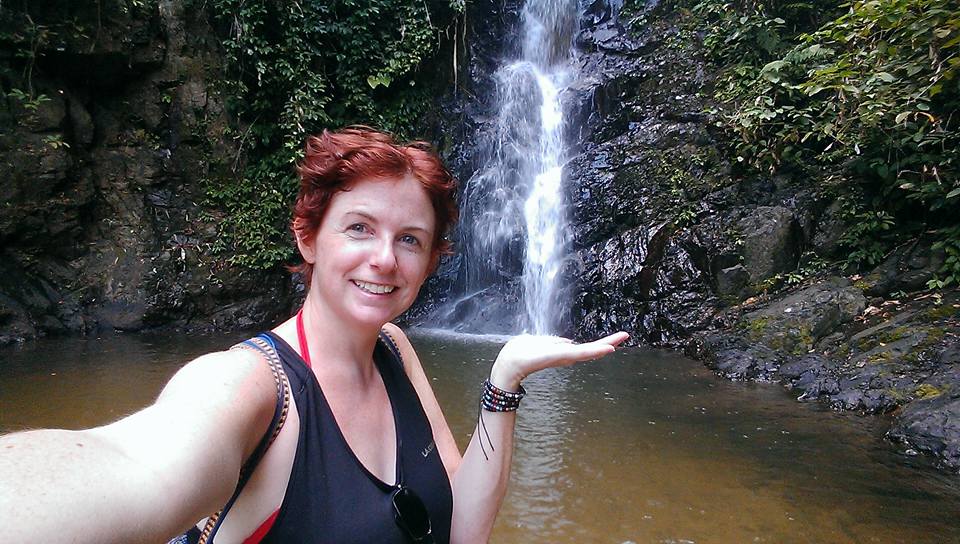 The next day, Sofie abandoned me to continue her trip up to Thailand and I stayed an extra couple of nights in Cenang while I prepared for my own trip to Australia! Yes, you guessed it, by chilling by the pool with a cocktail and a new Lonely Planet guide. How tiresome 😉
Thanks for being part of my Malaysian experience Sofie!